Ruby Class (Y5)
"Whether you think you can or think you can't, you're right." - Henry Ford
Teacher - Mr R. Sidebottom (& Mr Revis on Mondays)
We are now well underway with our year. We are successfully beginning to develop 'Growth Mindsets' in our children (if we don't give up, and keep trying, eventually we will get there) and, as a result, we are making very good progress.
"Amateurs call it genius; masters call it practice." - Thierry Henry
Please ensure your child reads for at least 5 minutes, practises his/her times tables grid and practises spellings every night. Initial your child's home/school log when s/he has. Thank you for helping us to ensure the best possible start for your child.
Our topic for this half term is Ancient Egypt. The topic map can be seen below.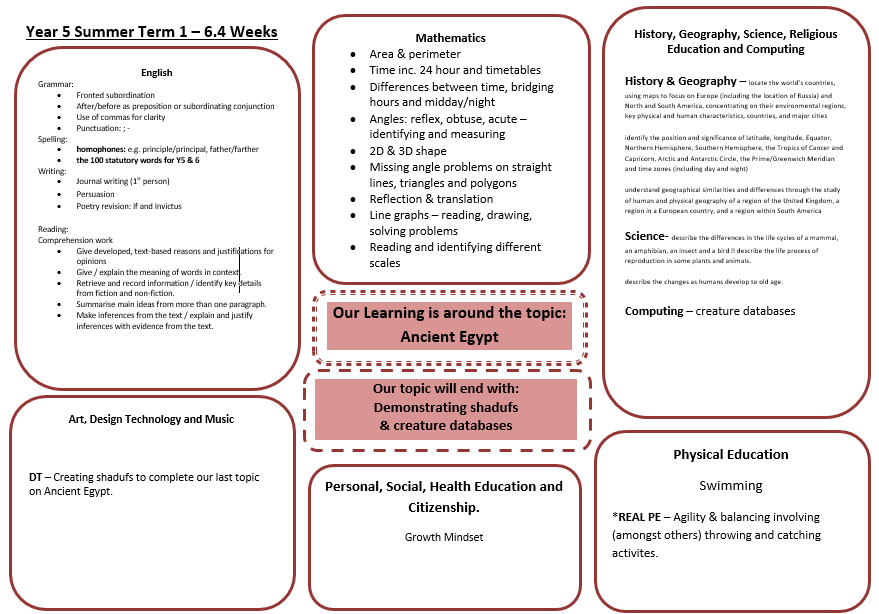 PE and Swimming Kit
Year 5 do PE every Wednesday afternoon - please help your child to remember to bring in his/her PE kit on this day. This should include:
a pair of dark coloured shorts/jogging bottoms (for outdoor PE)
a plain white t-shirt
a pair of pumps or trainers
a spare jumper (for outdoor PE)
Year 5 will be going swimming every Monday morning. Please ensure that your child brings:
a one-piece swimming costume/swimming shorts (must come above the knee and be of a tight fit)
a towel
goggles (if consent has been given)
hair bobble - to tie back long hair (if needed)
"It's not that I'm so smart. It's just that I stay with problems longer." - Albert Einstein