Grassmoor Primary School is located in the village of Grassmoor in North-east Derbyshire, an ex-mining community whose origins go back to before the Domesday Book. The village contains two reminders of the mining heritage in the form of Barnes Park, named after the original owner of the mines, and Grassmoor Country Park which is built on the site of the former Grassmoor Colliery. The mining hertiage is also remembered on the mural on the wall of the school near the main entrance.
The school is open to pupils between 3 and 11 years old. We currently have approximately 230 children on roll in 8 classes plus 25 in the Nursery.
The school is based in three buildings, built in 1905 and 1912, with two additional classrooms which were opened in 2006. We have a large playing field and an activity trail, the latter paid for by fundraising following coming second in the country in the Ronseal Playground Challenge in 2013. The field is also home to our developing forest area which is used for Forest Schools activities.
Our children can access pastoral support through our Learning Mentor who can offer a range of pastoral provision. Our School Parliament are an important group in school. They represent the pupil voice in many key decisions that take place throughout the year.
The school has achieved several awards including The Basic Skills Award, The National Healthy Schools Award, The Excellence Plus Award for Anti Bullying work, The Active Mark and The International Schools Award.
As well as teaching all the subjects within the National Curriculum we also build in termly visits and/or visitors to school, to bring our curriculum to life. We run a Breakfast Club, lunchtime and after school clubs which include football, netball, gardening, Kung Fu and choir. Our choir and sports teams take part in many festivals and competitions.
Tai chi is an important part of our day; every class in school participates in morning Tai Chi at least twice a week.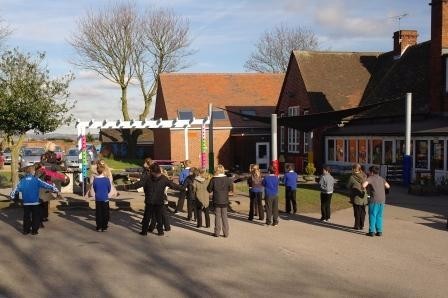 We have a fund-raising group called FROGS. Read about it here.